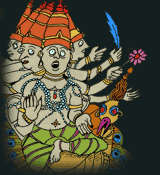 Welcome to Godchecker
We have more Gods and Goddesses than you can shake a stick at.
Our Mythology Encyclopedia features over 3,700 weird and wonderful Supreme Beings, Demons, Spirits and Fabulous Beasts from all over the world. Explore ancient legends and folklore, and discover Gods of everything from Fertility to Fluff with Godchecker...
For maximum blessings, follow the Gods on Twitter @Godchecker and get daily deities on Facebook at the official Godchecker HQ page.
---
---
SAINTS ALIVE! - Hermits and Martyrs now online
By popular demand, we present a bundle of Christian Saints.
Check out the strange peculiarities of holy notables like St John, St Germanus and St Simeon Stylites...
---
THE HOLY HIT PARADE
Who's the most popular God? Our patent GodRank™ technology has the answer. See the Top Ten Gods here.
Confused? Read the Godchecker FAQ.
Godchecker is 100% non-denominational. Our Holy Database aims to cover all Gods of mythology, literature and legend. All Gods are welcome, whether Greek, Roman, Egyptian, or of No Fixed Abode. Polytheism is much more fun than monotonous monotheism. Terry Pratchett fans, Tolkien afficiandos, Douglas Adams devotees, Lovecraft lovers and Harry Potter nuts will love our selection of Goddities.
All our Gods are certified genuine.
This site is blessed by the Holy Snail™
Lost? Wander the mystic mythological site map