RAINBOW SNAKE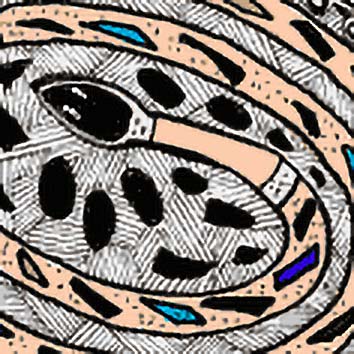 Australian Aboriginal Fertility God/dess
Also known as ALMUDJ, KALSERU
The Great Creator Serpent
In charge of Fertility, Growth and Refreshing Rain.
The RAINBOW SNAKE is a bit of a mish-mash, with a kangaroo's head, a crocodile's tail and a python's body, all decorated with water lilies and waving tendrils.
The Snake has many names and comes in male and female form. YINGARNA, the female, is the original Mother of Creation, and her son NGALYOD is the Great Transformer of Land. Family portraits go back 8,000 years, which makes the Rainbow Snake one of the oldest religious symbols. And it's still going strong today.
Rainbow Snake Facts and Figures
Name: Rainbow Snake
Pronunciation: Coming soon
Alternative names: ALMUDJ, KALSERU

Gender: Both male and female
Type: deity
Area or people: Arnhem Land
Celebration or Feast Day: Unknown at present

In charge of: Fertility
Area of expertise: Fertility

Good/Evil Rating: GOOD, quite approachable
Popularity index: 48812
Article last updated on 30 November 2017 by Rowan Allen.
Editors: Peter J. Allen, Chas Saunders
References: Coming soon.
---