CHALCHIUHTLICUE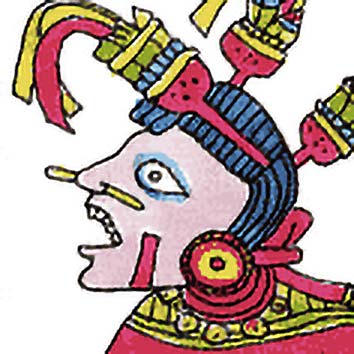 Aztec Water Goddess
Also known as CHALCHIHUITLICUE, Matlalcueyeh, MATLALCUEITL
Beautiful young Goddess of Cleansing Water
Known as Lady of the Green Skirts, she is the creator of the Fourth Sun — which was not a great success as it was extremely watery. Due to circumstances beyond our comprehension, she arose as a fruit-laden prickly pear tree standing in a river.
She prefers flowers to a human sacrifice, but that didn't stop her from flooding the entire world to drown the wicked. The entire Fourth Age of the Aztec world was destroyed. Perhaps her tempestuous husband TLALOC talked her into it.
Her 'now wash your planet' moral hygiene routine inspired her mortal followers to dip babies into water to wash away evil.
Chalchiuhtlicue Facts and Figures
Name: Chalchiuhtlicue
Pronunciation: Coming soon
Alternative names: CHALCHIHUITLICUE, Matlalcueyeh, MATLALCUEITL
Name means: Jade Skirt

Gender: Female
Type: deity
Celebration or Feast Day: Unknown at present

In charge of: Water
Area of expertise: Water

Good/Evil Rating: GOOD, quite approachable
Popularity index: 34763
Article last updated on 30 November 2017 by Rowan Allen.
Editors: Peter J. Allen, Chas Saunders
References: Coming soon.
---