OMETECUHTLI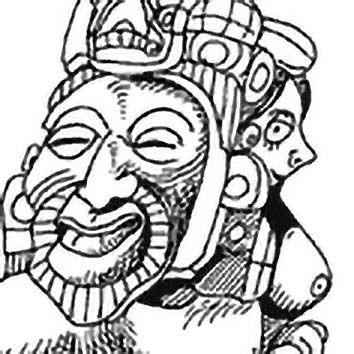 Aztec Supreme God
Also known as OMETEOLTLOQUE, OMETECUTLI, TLOQUE NAHUAQUE, CITLATONAC, Two Lord
Two in One Creator God
OMETECUHTLI and his wife OMECIHUATL symbolize the duality and primordial forces of nature... and all that kind of thing. The entire universe is their temple, but most worshipers prefer somewhere a little more modest.
Their four sons HUITZILOPOCHTLI, QUETZALCOATL, TEZCATLIPOCA and XIPE-TOTEC were also pretty big in the creation department. Often depicted as a half-man and half-woman figure, or vice versa. Could be an instance of Holy Transvestitution.
Ometecuhtli Facts and Figures
Name: Ometecuhtli
Pronunciation: Coming soon
Alternative names: OMETEOLTLOQUE, OMETECUTLI, TLOQUE NAHUAQUE, CITLATONAC, Two Lord

Gender: Male
Type: deity
Celebration or Feast Day: Unknown at present

In charge of: Everything
Area of expertise: Supreme, Everything

Good/Evil Rating: GOOD, quite approachable
Popularity index: 39440
Article last updated on 30 November 2018 by the Godchecker data dwarves.
Editors: Peter J. Allen, Chas Saunders
References: Coming soon.
---