GUANYIN
Chinese Protection Goddess
Also known as Guan Yin, Guanshiyin, Gun-Yam, Kuan-Yin, Kwan-Yin, Kwun-Yam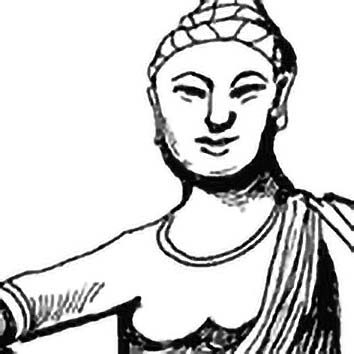 Goddess of Compassion and Caring
One of the Four Supreme Bodhisattvas of Chinese Buddhism, Guanyin's mission is Victim Support.
She protects the distressed and hungry, rescues the unfortunate from peril, and gives comfort and aid wherever it is needed. Guanyin's work would put many a charity to shame — and she doesn't ask for donations.
Otherwise known as Avalokitesvara in India, she had finally attained Enlightenment after much non-struggling with non-things. She was just about to enter Heaven to join the other Buddhas when she heard the cries of the poor unsaved souls back on Earth.
Her heart touched by pity, she vowed never to rest until every single soul was brought to Buddhahood. The magnitude of contemplating this task made her head explode into a thousand pieces, but she was perfectly fine after Buddha gave her a few Aspirin Sutras.
Turning aside from Heaven, Guanyin went to the sacred island of Potuoshan and embarked on her new career. This selfless sacrifice brought her much credit, and reverence which persists to this day.
As a deity often called upon to appear in the most unusual and difficult situations, Guanyin has the ability to transform into any living thing. In fact she's better known in India as a male. But she often appears in female form to avoid gossip — and because she likes it. Like her Japanese equivalent Kannon, Guanyin is known as a female deity, and has taken on a modest amount of fertility work. Childless women pray to her for offspring. In this respect she is also a Goddess of Rice, filling rice grains with her own milk to give nourishment and tasty tit-bits.
The Bodhisattva who saves us from the Three Calamities and the Eight Disasters, Guanyin is always on call, and has appeared in many a Chinese tale to help the likes of Monkey out of tricky situations. His — or her — peaceful benevolence has soothed many a worried brow. We are full of admiration.
Guanyin Facts and Figures
Name: Guanyin
Pronunciation: Goo-arn Yeen
Alternative names: Guan Yin, Guanshiyin, Gun-Yam, Kuan-Yin, Kwan-Yin, Kwun-Yam

Gender: Female
Type: Goddess
Celebration or Feast Day: Unknown at present

Role:
In charge of: Protection
Area of expertise: Protection

Good/Evil Rating: NEUTRAL, may not care
Popularity index: 15640
Cite this article
Here's the info you need to cite this page. Just copy the text in the box below.
Article last revised on September 20, 2018 by Rowan Allen.
Editors: Peter J. Allen, Chas Saunders
References: Coming soon.
---