AO GUANG
Chinese Sea God
Also known as Ao Kuang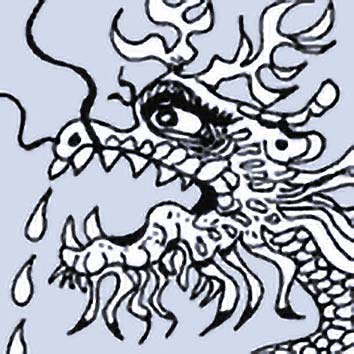 The highest and mightiest of the Ocean Dragon Kings
From his palace in the Eastern Ocean he not only rules the eastern waves but lords it over his brothers, the Long Wang Dragon Kings.
Ao Guang is majestic, utterly regal and aloof. Despite that, he's always being pestered by people after a favor.
Probably the most cheeky request came from architect Lu Ban, who wanted to borrow his entire palace for a blueprint. And when Monkey was looking for a good solid weapon, Ao Guang's Treasury was his first port of call.
After several cups of tea and much frightfully polite haggling, Monkey chose a huge iron rod which no-one else could lift. This was the famous Iron Cudgel or Wishing Staff, which Da Yu had used to subdue the Great Flood. It weighted 13,000 pounds and had lain for a thousand years beneath the sea. To be perfectly honest, Ao Guang was quite pleased to get rid of it as it was taking up most of the space in his Treasury and making the place look untidy.
Despite several early feuds, battles, and complaints to the Jade Emperor, Monkey and Ao Guang did eventually settle their differences to become deadly friends, or the best of enemies.
His son and heir Ao Bing was killed in a terrible battle with Nezha, who was supposed to be killing demons, not dragons. The enraged Dragon King was so horrifically angry that he even considered making an official complaint to the Jade Emperor.
Storming from his palace in an awful rage of revenge, Ao Guang met Nezha and was defeated himself. The ultimate humiliation came when Nezha spared his life but forced him to transform into a blue snake. The poor dragon slithered off, feeling very impotent and miserable. Life was such a drag for the Eastern Dragon King.
Ao Guang Facts and Figures
Name: Ao Guang
Pronunciation: Aow Kwarng
Alternative names: Ao Kuang

Gender: Male
Type: God
Celebration or Feast Day: Unknown at present

Role:
In charge of: the Ocean
Area of expertise: Sea, Seas, Ocean, Oceans

Good/Evil Rating: NEUTRAL, may not care
Popularity index: 22772
Cite this article
Here's the info you need to cite this page. Just copy the text in the box below.
Article last revised on September 25, 2018 by Rowan Allen.
Editors: Peter J. Allen, Chas Saunders
References: Coming soon.
---