SET
Egyptian Chaos God
Also known as Setekh, Setesh, Seth, Seti, Sutekh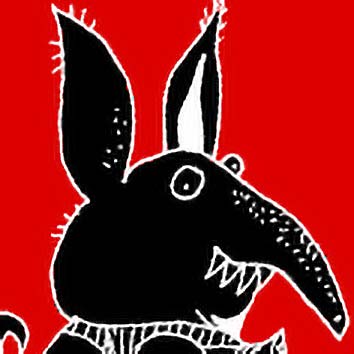 Chaotic God of Anarchy. Also handles War, Storms and Deserts
His nickname is The Red God, but whether this is politics, hair color or sheer embarrassment it's difficult to ascertain.
He's a bit of a mix and match, with donkey ears, a scorpion tail, and the head of a mysterious Egyptian aardvark. He can also turn up as a hippo with the jaws and tail of a crocodile.
But one thing's for sure: Set's a nasty piece of work. In fact he's the God of Evil Chaos, and loves nothing more than creating mayhem.
Not content with constantly messing up the peaceful farms of Osiris, he finally lost his temper and killed him.
But not even scattering the remains far and wide could save him from retribution. Horus son of Osiris came seeking vengeance and the battle lasted eighty years.
Not one to fight fair, Set tore one of Horus's eyes out, but Horus went straight for the testicles. (If you think that's disgusting, you should read Min's entry which has in-depth coverage.) The other Gods cheered and awarded him the victory, banishing Set to the upper realms of Ra where he became the voice of thunder.
He hasn't mellowed with age. If he enters the body of a human he can drive them mad. We're not surprised. It doesn't bear thinking about.
Set Facts and Figures
Name: Set
Pronunciation: Coming soon
Alternative names: Setekh, Setesh, Seth, Seti, Sutekh

Gender: Male
Type: God
Celebration or Feast Day: Unknown at present

Role:
In charge of: Chaos
Area of expertise: Chaos

Good/Evil Rating: Unknown at present
Popularity index: 17943
Cite this article
Here's the info you need to cite this page. Just copy the text in the box below.
Article last revised on August 22, 2018 by Rowan Allen.
Editors: Peter J. Allen, Chas Saunders
References: Coming soon.
---