THOTH
Egyptian Wisdom God
Also known as Tahuti, Tehuti, Thot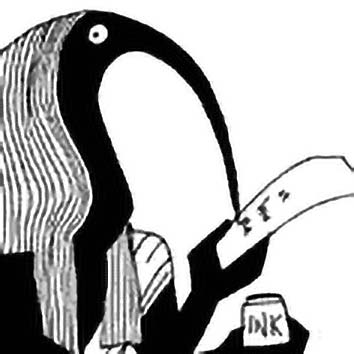 Fantastic Egyptian God of Art, Science, Astronomy and Literature
Pronounced 'tot', he's the great ibis-headed all-rounder for Arts, Science, Music, Astronomy, Speech and Letters. A good egg. Thoroughly recommended.
If ever a God was greater than great it was Thoth. In one translation his name is prefixed with the word 'great' no less than eight times. Thith may have helped to reduce the embarrathment cauthed by having a name that lookth like a lithp.
His resume seems too impressive to be true — but most of the facts speak for themselves. He is the master of time, mathematics, astronomy, readin', writin', 'rithmatic — and almost anything else you can point a pair of dividers at.
365 days in a year? Thank Thoth (see Iah for the full story). 12 hours of day and 12 hours of night? Thank Thoth. Circles having 360 degrees? Thank Thoth.
His bestselling Book of the Dead is still in print and you will never be able to hitch-hike to Heaven on the Nile without it.
He does have his eccentricities — he sometimes likes to revert back to the good old Ogdoad days and appear as a baboon. Not just any old baboon, but one that could have written the complete works of Shakespeare before Shakespeare existed. (Now there's an idea — it's always been known that Shakespeare could hardly write his own name let alone spell it, so who really wrote all those plays that bearded scene-shifter claimed as his own?) In the custom of the times he chose the head of an Ibis with a fancy wig for those high-flying occasions.
Encouraging Ra to call himself Top God left Thoth free to run just about everything without any fuss or hassle. Pocket calculators? Thoth used the whole firmament, available to all on a grand scale. Think Sky.
To make it easier, all the stars and planets required for calculation are associated with favorite Gods. Need to work something out via Sirius? Log in and have Hathor guide you. Need the moon for phases, time or tides? Go to Thoth; he chose to be Top Moon God alongside his best buddy Khonsu.
Cool, modest, unflappable, and a brilliant arbitrator, Thoth has stood the test of time, time and time again. Full ticks and tocks to this tip-top God.
He was also known to Greek God geeks as Hermes Trismegistus, possibly to avoid talking with a lisp.
Thoth Facts and Figures
Name: Thoth
Pronunciation: Coming soon
Alternative names: Tahuti, Tehuti, Thot

Gender: Male
Type: God
Celebration or Feast Day: Unknown at present

Role:
In charge of: Wisdom
Area of expertise: Wisdom

Good/Evil Rating: Unknown at present
Popularity index: 16865
Cite this article
Here's the info you need to cite this page. Just copy the text in the box below.
Article last revised on August 22, 2018 by Rowan Allen.
Editors: Peter J. Allen, Chas Saunders
References: Coming soon.
---