CHAOS
Greek Goddess
Also known as Khaos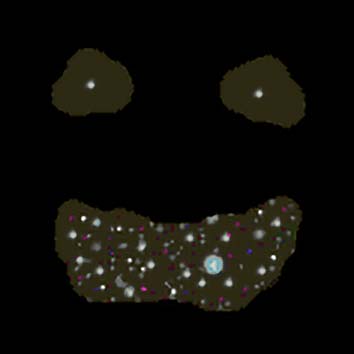 Shapeless Deity of Empty Space and Confusion
She — or possibly he — is a personification of the gaping cosmic void which existed before creation, an amorphous mass of unknowable zilchness.
The biography of Chaos is a little chaotic — before the Universe began there was no-one around to take notes. But it seems that, in the beginning, there was a primordial emptiness. Over infinite eons this morphed into a huge wobbly state of random disorder. This was Chaos.
Due to unspecified quantum improbabilities, a Cosmic Egg formed inside her belly. At some point there was a Big Greek God Bang. The Cosmic Egg hatched and gave birth to the Universe. Gaia and Erebus were produced from the darkness, along with Eros. Nyx the Goddess of Night also popped out and ancient Greek cosmology finally got going.
But the nature of Chaos remains shrouded in obscurity. Is she (or he) even a deity, or just a concept? Nobody knows much about the Deity of Nothing, so perhaps there is nothing to know. If you know anything about nothing please get in touch.
In an attempt to pluck some order from the chaos, we have decided to classify Chaos as an honorary goddess until it can be proven otherwise. Taking our cue from Gaia the Earth Mother, we hereby proclaim Chaos to be Greek mythology's official Space Mother. There are vast quantities of empty vaccuum out there and someone needs to look after it all.
Chaos Facts and Figures
Name: Chaos
Pronunciation: Coming soon
Alternative names: Khaos

Gender: Female
Type: Goddess
Celebration or Feast Day: Unknown at present

Role: Unknown at present
Good/Evil Rating: NEUTRAL, may not care
Popularity index: 19205
---
Chaos Relationships
Children:
Erebus
,
Nyx
Cite this article
Here's the info you need to cite this page. Just copy the text in the box below.
Article last revised on September 06, 2018 by Rowan Allen.
Editors: Peter J. Allen, Chas Saunders
References: Coming soon.
---