ZEUS
Greek Sky God
Also known as Ceneus, Epiphanes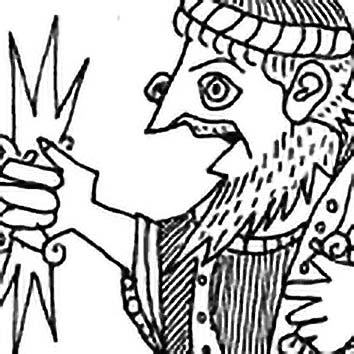 Top God of the Heavens and Ruler of Mount Olympus
He rules Olympus, the lofty cloudland where the Greek Gods live and look down upon mankind. He is a real high-flyer, an Olympic champion, battling with the giant Titans, casting thunderbolts and engaged in all manner of gut-busting glorious Godly pursuits.
When he was born, his father Cronus was terrified of baby Zeus's awesome power. He was so concerned that Zeus might overthrow him that he swallowed him up. And lived to regret it. It was left to Amalthea (and her goat) to protect the budding SuperGod while he learned to walk, talk, and rule the Universe. Since then he's never looked back.
Zeus is married to the long-suffering Hera, but spends most of his time lusting after Goddesses, mortals, animals, and indeed anything that will keep still long enough.
It's tough at the top being the most fantastic hunky irresistible God of all time and having constantly to prove it. And never a quiet night in with slippers and a mug of cocoa because he has to keep his long-suffering wife Hera happy too. Their trials and tribulations form the basis of half the Greek entries in our database.
Zeus has had so many mistresses and fathered so many children that there's no point in giving a list here. Just take our word for it. See also Cronus, Rhea, Hephaestus, Athena... and in fact most of the other Greek Gods.
Moving on to more Godly matters, Zeus was also known to the ancient Greeks as Epiphanes, the Magnificent One, whenever a certain star appeared in the east. This was celebrated with piph-ups known as epiphanies.
When he's not running around after nubile Goddesses in the form of a lusty animal, Zeus looks after Law, upholds Justice, and casts thunderbolts on those deserving it.
Zeus Facts and Figures
Name: Zeus
Pronunciation: Coming soon
Alternative names: Ceneus, Epiphanes

Gender: Male
Type: God
Celebration or Feast Day: Unknown at present

Role:
In charge of: the Sky
Area of expertise: Sky, Skies

Good/Evil Rating: NEUTRAL, may not care
Popularity index: 34768
---
Zeus Relationships
Father:
Cronus
Mother:
Rhea
Consorts:
Hera
,
Mnemosyne
,
Themis
Common questions about Zeus
Cite this article
Here's the info you need to cite this page. Just copy the text in the box below.
Article last revised on September 05, 2018 by Rowan Allen.
Editors: Peter J. Allen, Chas Saunders
References: Coming soon.
---