MAUI
Maori Trickster God
Also known as Maui-Tikitiki-A-Taranga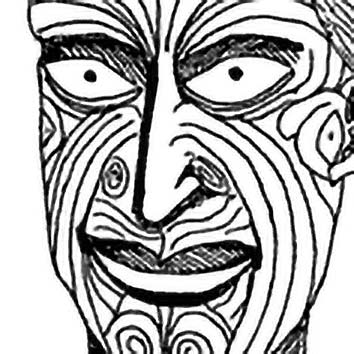 A real pest of a God
He had an irritating habit of plucking his brothers' fish off their lines with his own hook. It got to the point that they wouldn't take him fishing any more. Mom (Queen Taranga) was not pleased and sent him off to his dad Makeatutara, King of the Underworld.
Mom had never liked her son much. Not since the day he was born looking like a jellyfish. There and then she had thrown him into the sea. He was rescued by a God called Tama-nui-te-ra, who hung him up to dry. When he'd assumed a more child-like shape and grown into a scamp of a boy he was sent off back to mother.
She had so many children by now she couldn't quite remember which one he was and couldn't remember his name so called him Maui. We have no idea what this means, probably something like 'Oi Yu' or 'Thingy'.
His pop seemed quite pleased to see him however, and gave him a magic fishhook called Manai-Ka-Lani which meant he would be able to catch his own fish. He tried to go fishing with his brothers again but they threw him out of the canoe. He kept pestering, and one day they relented and he had some big catches, but when he pulled them up they became islands. He also showed off and hooked the sun to make it move more slowly.
After this of course he became an unbearable smart-ass, discovered playing with fire and showing off at every opportunity in the best trickster tradition.
He eventually came to a very tricky end. Finding Hine-nui-te-po the Goddess asleep, he became very curious because she was a Big lady. We are talking colossal here. Maui thought it would be fun to walk through her body — starting from an entrance not normally accessible.
Now Hine-nui-te-po was not sleeping in a very ladylike position (although missionaries have since put it to good use). At the crucial moment, a flock of birds twittered in shock at the unusual spectacle and she woke up with a start. Her legs clapped together and Splunch!. No more Maui.
Maui Facts and Figures
Name: Maui
Pronunciation: Coming soon
Alternative names: Maui-Tikitiki-A-Taranga

Gender: Male
Type: God
Area or people: Polynesia
Celebration or Feast Day: Unknown at present

Role:
In charge of: Mayhem
Area of expertise: Trickster, Mischief, Mayhem

Good/Evil Rating: NEUTRAL, may not care
Popularity index: 18392
Cite this article
Here's the info you need to cite this page. Just copy the text in the box below.
Article last revised on April 30, 2019 by the Godchecker data dwarves.
Editors: Peter J. Allen, Chas Saunders
References: Coming soon.
---