AH PUCH
Maya Death God
Also known as Ah Cizin, Ah Kisin, Ah Pucu, Ah Pukuh, Cizin, Cumhau, Eopuco, God A, Hunhau, Kisin, Pukuh, Yum Cimil, Yum Kimil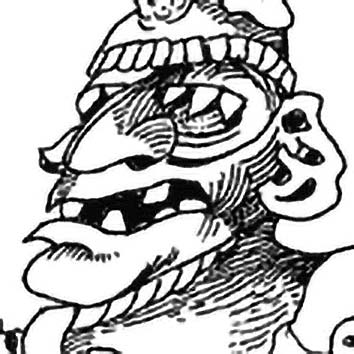 Hellish Death God of the Maya Underworld
He is the infamous Lord of Death and the Ruler of Mitnal, the deepest and nastiest department of Maya Hell. In terms of appearance, he ticks all the boxes of deathly hideousness: a rotten putrefying body, a skeletal face and an evil grin.
A definitive Death God, Ah Puch has been known across Mesoamerica by many names, most of them repulsive. One of his nicer nicknames is 'The Flatulent One', which is not something we care to investigate further. He is notoriously stinky.
Associated with the Underworld death deity Hun-Came of Popol Vuh fame, his hideous reputation may also have morphed into the grinning Mictlantecuhtli, Lord Death of the Aztecs. He also takes pride of place as God A, the first of the Alphabet Gods. A is for Arggggghh!! Nowadays he is popularly called Ah Puch although that's probably not his original name. It just sounds more repulsive.
Ah Puch likes to surface at night and skulk around in really scary mode. A putrefying corpse with an owl's head is his favorite outfit. Wishing to look the part he uses the eyes of the dead to add the finishing touches to his headgear.
For some reason Ah Puch often has bells tied to his hair, but he is not being cute. If you look closer you may discover they are actually dangling eyeballs.
What he does when he homes in on a victim is worse than you need to imagine... There is only one way to escape his attentions. Howl! Shriek! Moan! Scream! Give it your best shot. Sound utterly convincing. Ah Puch will then assume you are already being dealt with by some of his lesser demons. He will stop outside your door to sigh "Ah..." and pass by with a grim smile.
But Ah Puch, the Lord of Death and Patron God of the number ten, will get you in the end. He uses Muan, the evil bird of bad tidings, as his messenger. To this day the legend persists that when an owl screeches, someone nearby will die. If you hear a hoot, take a deep breath and count to ten.
Ah Puch Facts and Figures
Name: Ah Puch
Pronunciation: Coming soon
Alternative names: Ah Cizin, Ah Kisin, Ah Pucu, Ah Pukuh, Cizin, Cumhau, Eopuco, God A, Hunhau, Kisin, Pukuh, Yum Cimil, Yum Kimil

Gender: Male
Type: God
Celebration or Feast Day: Unknown at present

Role:
In charge of: Death
Area of expertise: Death

Good/Evil Rating: BAD, best avoided
Popularity index: 31679
Cite this article
Here's the info you need to cite this page. Just copy the text in the box below.
Article last revised on April 12, 2019 by the Godchecker data dwarves.
Editors: Peter J. Allen, Chas Saunders
References: Coming soon.
---