WAYEB
Maya Bad Luck God
Also known as Uayayab, Uayeb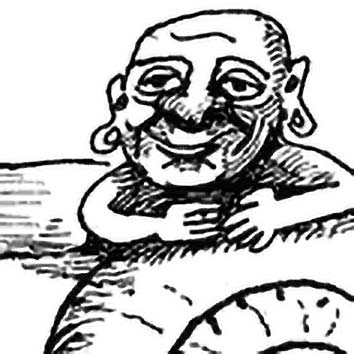 Sexy God of Annual Misfortune
He is the God of Five Unlucky Days. These occur on a regular basis but only once per year. Every week would be a bit over the top.
The Maya Calendar was a marvel of mathematical creation, but to ensure it worked correctly they needed to add a few extra blank days to the end to pad it out. Because, although Maya mathematics was more or less flawless, the Universe is not.
So, just as we use leap years nowadays, the Maya popped an extra 5-day period at the end of the year. This extra time was a period of notorious uncertainty, as you might imagine, and had a reputation for being a time of bad luck and inauspicious happenings.
Hence Wayeb, the God of this period, was regarded as a very unlucky figure. Basically he got the blame for whatever terrible things might be about to happen. As a precaution, statues of him would be carried out of towns and villages to minimize the chances.
We have it on some kind of authority that Wayeb is portrayed as a drunken sex-maniac. We presume there were a lot of wild parties going on during those fatal Five Blank Days. The thought uppermost in everyone's minds was surely "well, no-one will notice – these days don't really exist, do they?" Plus, on the unluckiest days of the year, what's the worst that could happen?
We are not sure how involved Wayeb was in any of this. But we do understand he may also be the first God to wear a shell suit, as a snail shell seems to be his principle abode. Thanks to the Godchecker Holy Snail, we know snail shells are capable of containing much holiness. Presumably he spends the whole year hiding in his shell and only comes out during his Five Days.
There's obviously quite a lot we don't know about him. To be honest, we are reluctant to learn more.
Wayeb Facts and Figures
Name: Wayeb
Pronunciation: Coming soon
Alternative names: Uayayab, Uayeb

Gender: Male
Type: God
Celebration or Feast Day: Unknown at present

Role:
In charge of: Bad Luck
Area of expertise: Misfortune

Good/Evil Rating: Unknown at present
Popularity index: 10562
Cite this article
Here's the info you need to cite this page. Just copy the text in the box below.
Article last revised on April 18, 2019 by the Godchecker data dwarves.
Editors: Peter J. Allen, Chas Saunders
References: Coming soon.
---