TABLET OF DESTINIES
Mesopotamian information
Also known as Tablets Of Destiny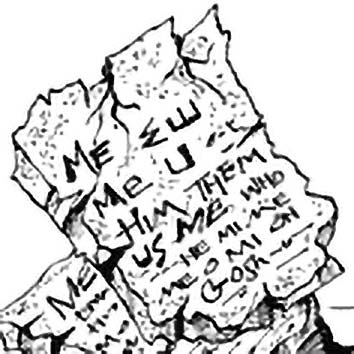 The Tablet of Destiny, including the ME Super Powers and Fundamental Forces of the Universe — and Goodness Knows What El
The most sought-after ultimate prize in prehistory, they have been nicked, stolen, chipped, dropped, snitched and snatched more often than you could imagine.
And no wonder, as anyone who possesses the Tablet of Destinies becomes instantly omnipotent, omnipresent, omniscient and omniultrasupereverything. This is basically the world's first ever MacGuffin. Not bad for a crumbling collection of clay lumps.
With Anzû and Inanna trying to grab the Tablet from Enki and/or Enlil, it's a wonder it ever remained in one piece, or place. Fortunately Marduk, who was worried about the stability of the Universe, came along eventually and superglued the Tablet of Destinies to his breast.
Where they are now is more than you or me can know.
In short, no-one has been able to keep tabs on the tablet. Fragments could even be the Ten Commandments lugged down from the mountain by Moses.
Tablet of Destinies Facts and Figures
Name: Tablet of Destinies
Pronunciation: Coming soon
Alternative names: Tablets Of Destiny

Gender: Sorry, we don't know
Type: information
Celebration or Feast Day: Unknown at present

Role: Unknown at present
Good/Evil Rating: Unknown at present
Popularity index: 9307
Cite this article
Here's the info you need to cite this page. Just copy the text in the box below.
Article last revised on May 24, 2019 by Rowan Allen.
Editors: Peter J. Allen, Chas Saunders
References: Coming soon.
---