MANABOZHO
Algonquin and Ojibwe Trickster God
Also known as Big Rabbit, Great Hare, Great Rabbit, Manabozo, Manabush, Manibozho, Nanabozho, Nanabozo, Nanabush, Wenabozho, Winabozho, Wisaaka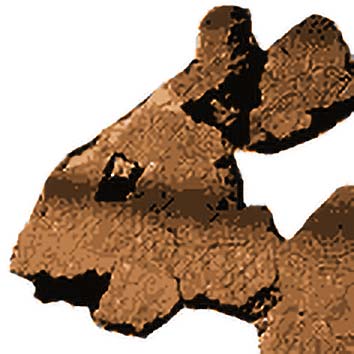 The Great Rabbit Trickster God
He's the Creator Hare and Trickster Rabbit. Don't you dare mock. Rabbit Gods can be found all over the place in mythology — not surprisingly as the breeding habits of rabbits are legendary. See the African Hare, for example. Not to mention Bugs Bunny, Roger the Rabbit and good old Flopsy.
Manabozho (also known as the Great Hare) is a devious Trickster God, always ducking and diving and changing shape. He has a good line in Creation, Provisions and Transformation, and is one of the most important critters in Native American mythology.
The Algonquin's amalgamation with Asante slaves eventually produced the Brer Rabbit stories — and if you think you can outsmart Brer Rabbit you had better read the tales again. Read about his tussles with Ictinike, for example. He must also have nipped over to Britain at some point to be immortalized as the Rabbit God El-Ahrairah.
His brother is the wolfish Chibiabos, and the two of them crop up in transmogrified form all over the place. See also Glooskap and Michabo.
The Algonquin have him as one of four divine brothers. He was mostly Mr Nice Guy but he had problems coming to terms with death. First his mother went. Then he had to kill his flinty brother Chakekenapok.
Then his other brother Chibiabos was lost when the ice he was walking on was melted by destructive Manitou spirits. For six years, the mourning Manabozho battled with these spirits and finally won a concession for his brother to become Protector of the Dead.
Meanwhile extra brother Wabasso had been hob-nobbing with the Spirit Magicians of the North and came back laden with handy medical info. Manabozho filed it all away for the benefit of mankind. And then he had a well-deserved rest.
Meanwhile other manifestations of the Great Rabbit were bounding around the land under the name Glooskap and Michabo to keep us nicely bewildered. It can be quite exhausting chasing after them all.
Manabozho Facts and Figures
Name: Manabozho
Pronunciation: Coming soon
Alternative names: Big Rabbit, Great Hare, Great Rabbit, Manabozo, Manabush, Manibozho, Nanabozho, Nanabozo, Nanabush, Wenabozho, Winabozho, Wisaaka

Gender: Male
Type: God
Area or people: Algonquin and Ojibwe people of the Anishinaabe group
Celebration or Feast Day: Unknown at present

Role:
In charge of: Mayhem
Area of expertise: Trickster, Mischief, Mayhem

Good/Evil Rating: NEUTRAL, may not care
Popularity index: 23094
Cite this article
Here's the info you need to cite this page. Just copy the text in the box below.
Article last revised on May 24, 2019 by Rowan Allen.
Editors: Peter J. Allen, Chas Saunders
References: Coming soon.
---