ISIS
Egyptian Mother Goddess
Also known as Aset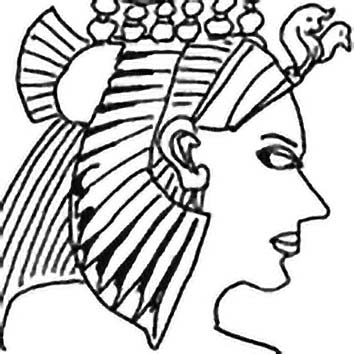 Popular Goddess of Motherhood, Royalty and Family Commitment
The daughter of Geb and Nut, she went to the ends of the Earth to find the remains of her murdered husband Osiris. With cunning ingenuity she managed to reassemble the body for burial, and couldn't resist one last rite which was more fertility than funeral.
In consequence, she became pregnant with glorious Horus, and had to go into hiding before bad brother Set found out. Luckily her mothering skills paid off and Horus grew into a Set-beating superhero who became the first ruler of a peaceful united Egypt.
Isis settled down to enjoy royal life, attending garden parties and state functions in her role as King's Mother. She now has a fetching line in headgear featuring cow horns and sun disc. We've seen this before somewhere. Royal Ascot perhaps.
Isis was one of the few Egyptian Gods the Greeks took a fancy to, and she even went through to the Romans. There was a temple built to her at Pompeii. The cult became very popular and her consort Osiris was probably the foundation of the Greek/Egyptian Hybrid-God Serapis.
During the Cleopatra/Anthony affair, Cleo saw herself as the personification of Isis. With her departure, the Roman Senate did its best to demolish her Egyptian shrines, but you can't keep a good Goddess down. By the time of Julius Caesar the cult was thriving and had its own festivals.
All through this, Isis shook her sistrum — which she retained despite her classical look statue makeover.
With the Christians she happily became identified as the Virgin St. Mary. The Armenian liturgy even retained the rattling sistrum sound. Penitents crawling on a symbolic search for Christ were only replacing the earlier devotees on the symbolic search for Osiris.
Isis Facts and Figures
Name: Isis
Pronunciation: Coming soon
Alternative names: Aset

Gender: Female
Type: Goddess
Celebration or Feast Day: Unknown at present

Role:
In charge of: Motherhood
Area of expertise: Mother

Good/Evil Rating: Unknown at present
Popularity index: 17252
Cite this article
Here's the info you need to cite this page. Just copy the text in the box below.
Article last revised on April 06, 2019 by Rowan Allen.
Editors: Peter J. Allen, Chas Saunders
References: Coming soon.
---