ERIS
Greek Discord Goddess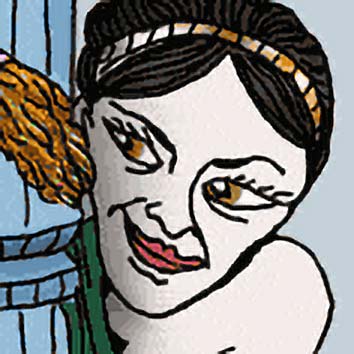 Notorious Goddess of Strife and Discord
She is the sister of Ares the War God and could certainly teach him a thing or two about conflict.
In one of her most famous exploits, she stole one of the Golden Apples of Immortality, given to Hera as a wedding present by Gaia, and turned it into the Sour Apple of Discord.
What caused the Trojan War? Thanks to Eris and her apple, it was chaos, confusion and top quality bitching!
Miffed at not being invited to the all-star Olympus wedding of King Peleus of Thessaly, and Thetis, the future mother of Achilles, Eris sneaked in anyway. There's always a bit of bitchiness among the top Greek Goddesses, but Athena and Hera were swanning around quite happily until Eris tossed the Golden Apple among them, bearing the label 'For The Fairest'.
Well, that upset the applecart. Forget the wedding — this was far more important. Who was the fairest of them all? The glamorous Goddesses clamored around Zeus, asking who it should be.
As he was already married to insanely jealous Hera, he wasn't going to fall for that one. Instead he passed the buck. "This question must be decided by a mortal," he said. And that really started the apple rolling.
A dishy guy named Paris was chosen. Speedy messenger boy Hermes whisked them all off to Mount Ida.
Paris, good-looking but crafty, suggested the apple should be shared. Hermes was having none of it. Fly them all that way for a bit of fun and have it fizzle out? No way. "Look here chummy, there has to be a firm choice, or you'll get a thunderbolt up your whatsit. Do yourself a favor, you great mortal idiot. Go for bribes."
So the gorgeous contestants lined up in their Olympic bathing costumes and Paris judged them, one by one. None of the Goddesses wanted to travel the world and work for charity, so he went for the bribery option.
Athena offered him Wisdom. Hera offered him Royal Power. But Aphrodite offered him the most beautiful woman in the whole world, the daughter of Zeus and Leda, whose name happened to be Helen.
You've figured it out, haven't you? He chose Aphrodite. Athena and Hera were furious. But what Aphrodite didn't tell him was that Helen was already married. To none other than the incredibly butch Greek ruler Menelaus. And Paris, who was a Troy boy, was therefore obliged to abduct her.
This, of course, started the Trojan War, which lasted for ten long-suffering years and caused a severe drain on the world's supply of spears. And all because of a simple piece of fruit!
Meanwhile Eris laughed like a drain. "That Trojan Horse thing — what a cackle!" she shrieked as she shared the joke with her sisters. Who, we have reason to believe, just happened to be Nemesis and the Fates.
Nowadays Eris is held in the highest esteem by Discordians, Pranksters and those who like to set the cat amongst the pigeons. Little wonder that the solar system's 'tenth planet' — discovered in 2005 and the cause of much astronomical discord and argument — has been named after her.
Eris Facts and Figures
Name: Eris
Pronunciation: Coming soon
Alternative names:

Gender: Female
Type: Goddess
Celebration or Feast Day: Unknown at present

Role:
In charge of: Strife
Area of expertise: Discord, Strife, Disharmony

Good/Evil Rating: Unknown at present
Popularity index: 9042
Link to this page
HTML: To link to this page, just copy and paste the link below into your blog, web page or email.
BBCODE: To link to this page in a forum post or comment box, just copy and paste the link code below:
Cite this article
Here's the info you need to cite this page. Just copy the text in the box below.
Article last revised on September 05, 2018 by Rowan Allen.
Editors: Peter J. Allen, Chas Saunders
References: Coming soon.
---