PANDORA
Greek legendary mortal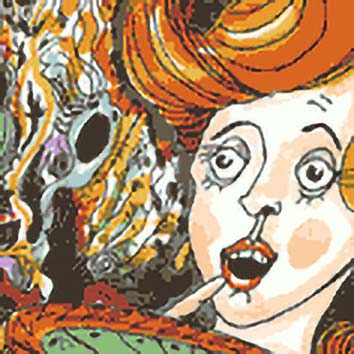 Don't open that box!
If she was a Goddess, she'd be Goddess of Curiosity. But Pandora was the first woman, invented by Hephaestus on the orders of Zeus. The Gods showered her with all the gifts of womankind, including beauty, intuition, persuasion and the ability to pack suitcases.
This all seemed very pleasant and lovely for humankind. But it turned out that Zeus had an ulterior motive. In fact he was absolutely livid that Prometheus had stolen the secret of fire from Heaven and had decided that Olympus was going to teach mankind a lesson they would never ever ever forget.
The innocent Pandora was introduced by the Gods to Prometheus's dozy brother Epimetheus — along with a mysterious box. "Whatever you do, don't open it," they said.
With amazing restraint, Pandora resisted the temptation for almost twenty minutes before having just a little peek inside...
As soon as she opened the box, blam! all the evils of the world burst out. Much to her surprise.
What a sneaky underhand trick, she thought. The misfortunes of mankind zoomed off to cause havoc, leaving an embarrassed Pandora to discover Elpis (Hope) lurking at the bottom of the box. Along with a little note saying 'Fooled you!'
Pandora might be blamed for all the world's problems, but as she was the first woman, we think it's only fair to forgive her. After all, Adam's Eve did pretty much the same thing and everyone blames the snake. Don't forget, without Pandora's daughter Pyrrha, the human race would be extinct. So try to think outside the box.
Pandora Facts and Figures
Name: Pandora
Pronunciation: Coming soon
Alternative names:

Gender: Female
Type: legendary mortal
Celebration or Feast Day: Unknown at present

Role: Unknown at present
Good/Evil Rating: Unknown at present
Popularity index: 6023
Cite this article
Here's the info you need to cite this page. Just copy the text in the box below.
Article last revised on September 05, 2018 by Rowan Allen.
Editors: Peter J. Allen, Chas Saunders
References: Coming soon.
---