MÓRRÍGAN
Irish War Goddess
Also known as Mór-Ríoghain, Morrígan, Morríghan, Morrigna, Morrigu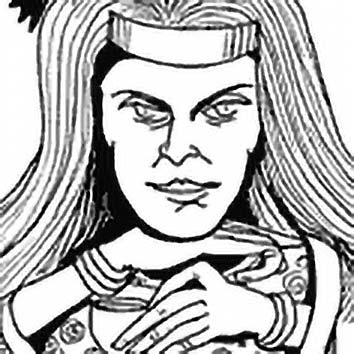 Megalithic Military Mother Goddess and 'Phantom Queen'
Don't attempt to mix it with the Mórrígan. You would be very unwise to mess with her and her sisterly accomplices. She was one of the original members of the Tuatha Dé Danann (People of the Goddess Danu) who chose Ireland as their base and headquarters. This was good preparation for battle and shenanigans as the Fir Bolg had to be defeated first.
As a shape-changer she can transform from ravishing beauty to hag — or battle crow to Bean nighe — in triple time. This has caused a great deal of confusion to careless mythologists and innocent Godcheckers. Some sources claim there are three of her. But as her sisters Badb and Nemain usually join in the fray, this is not surprising. The three girls form a triad formidable enough to make all other Holy Trinities tremble and burst into tears.
There could have been more as Fea, Fódla and Nemain, other warrior Goddess compatriots with shape-changing abilities, were hardly likely to sit on the sidelines when things got exciting. With crows wheeling and shrieking and startling transformations going on, who is going to stop to count? Especially when you are fleeing in terror, knowing they always picked the winning side.
When Medb The Queen of Connaught employed the Mórrígan Mob in her battle against Ulster and Cúchulainn, more confusion was caused — as Medb is similar to Badb. Badb was not as bad as Medb, and the Mórrígan forces used fear itself as a weapon rather than adding to the slaughter.
Mórrígan does have a loving side to her nature, and gave the Irish Hero Cúchulainn every chance to make love not war. But would he listen? That's why he is now only commemorated as a statue of a dying warrior with a Mórrígan crow on his shoulder. Who knows what she could be saying to him?
Far from fading away, The Mórrígan is still exceedingly popular and has many followers. There no longer seems to be a pecking order for battle crows; she is more into utilizing Earth energy — which is very nice to know. A Dark Green Goddess from the Emerald Isle.
Sláinte!
Mórrígan Facts and Figures
Name: Mórrígan
Pronunciation: Coming soon
Alternative names: Mór-Ríoghain, Morrígan, Morríghan, Morrigna, Morrigu

Gender: Female
Type: Goddess
Celebration or Feast Day: Unknown at present

Role:
In charge of: War
Area of expertise: War

Good/Evil Rating: OKAY, not bad
Popularity index: 29539
Cite this article
Here's the info you need to cite this page. Just copy the text in the box below.
Article last revised on May 23, 2019 by Rowan Allen.
Editors: Peter J. Allen, Chas Saunders
References: Coming soon.
---